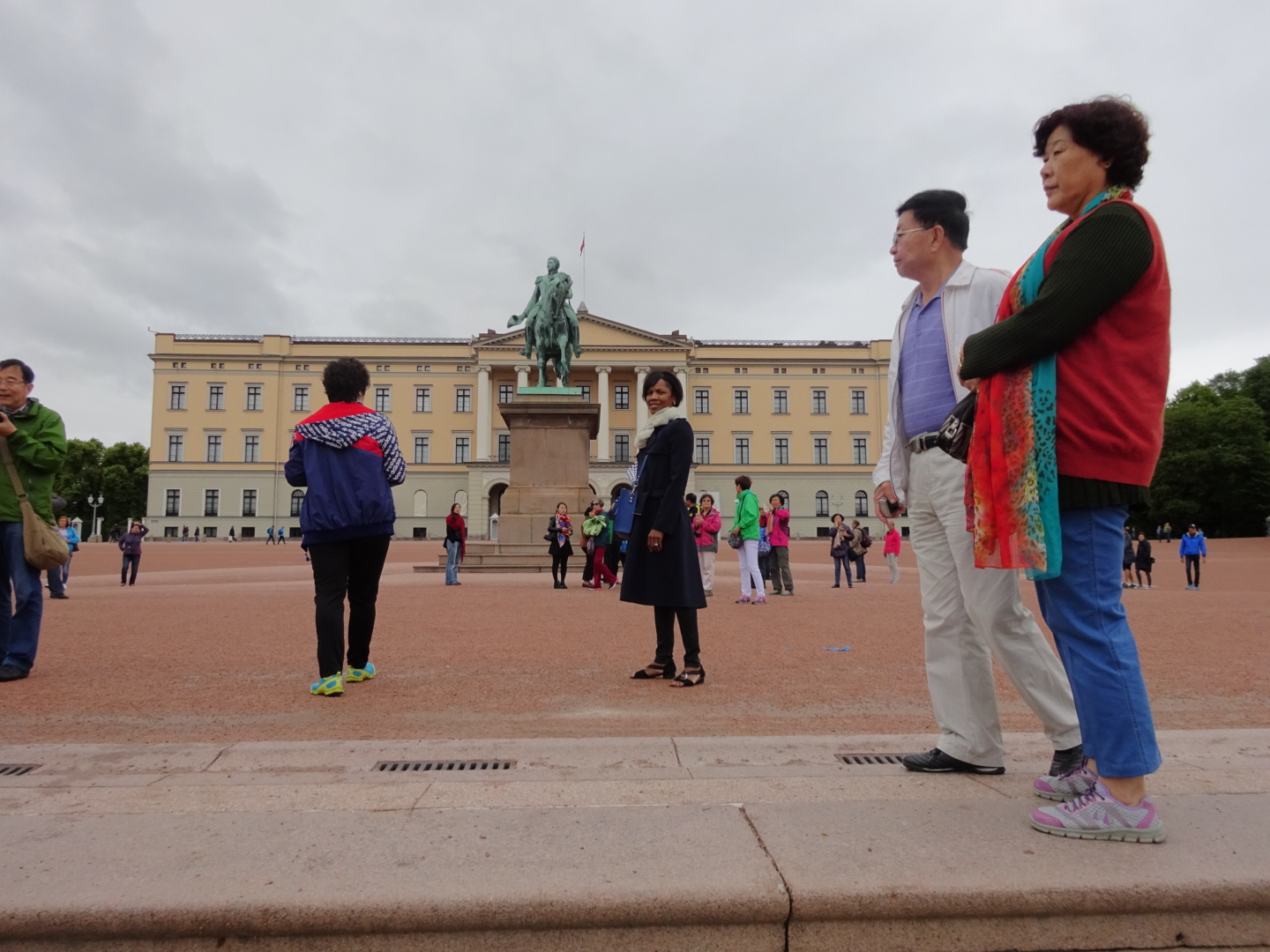 When we reached Norway, the terrain changed literally. The wide paved roads, some of them red, with clear markings down the center were behind us, replaced by roads with potholes and no dividers at all, seemingly stretching for miles ahead. Earlier I had wished for Norway, at last bored with the manicured land and pretty red houses of Sweden.
Now I questioned the whereabouts of this unrivalled beauty yet to come.
'You do realise the scenery will be same,' Paul said, focusing on the narrow curvy road.

"Not hardly,' I boasted remembering crossing the Florida, Georgia state line as a child, after a visit with my grandparents –one state's smooth roads barely discernible underneath the car tires, while the other's were rough and rocky, as if the car had a flat.
Just then some free ranging goats and elks wandered across the road. Admittedly, our Swedish guide had warned us about Norway's unregulated sheep, some sleeping on the roads in areas mimicking hinterlands, but she had not mentioned this lot.
As we drove by cautiously, we knew it would be slow travelling onwards. Not only would we have to worry about hitting carefree sheep and incurring the sorrow of doing so as well as a heavy penalty, but also we would have to fret about elk, goats and possibly reindeer, too.
And so we tarried and even if I did need to make a stop, we kept moving. With Sweden's lovely rest areas replaced by small Wc's akin to out houses and coffee stalls, we began to truly understand the meaning of a layman's pit stop. We gave them a miss and pressed on to Roros, a debatably charming former mining town in Norway, which was added to UNESCO's World Heritage List in the 1980s.
Glad to be in the middle of somewhere, we ascertained that it was the farthest that I had been north ever, some 444 kilometer (276 miles) away from the Artic Circle, Here we saw day, even if it was dusty, stretch well into night until around 11.00 p.m.
Also, Roros was where we got our first taste of good Norwegian cooking at Vertshuset, likely the best restaurant in town. From then on dinner would play a key role in our experience in Norway with family owned businesses serving up home made meals replete with fresh, local ingredients, featuring bread to my detriment. Glad you remembered I'm gluten intolerant. I forgot.
Still, the best of food was yet to come in Denmark, but that is another story.
Admittedly, however, Norwegian cooking made up for the cooler atmosphere, particularly further north, not only in the air, but also in the people. There, even hospitality staff served with a cool curiosity and watched us suspiciously. In the guests, we saw an austerity and a preserved a way of life. To my mind, we fell into what I call the outsider trap, suddenly aware of our differences and wearing them like they were an inferiority complex. In Sweden we had worn who we are with equality.
In Roros, at breakfast, we walked into a chilly room filled with middle aged to elderly Norwegians. The waiter found us a place with two ladies who smiled demurely but who kept silent. Momentarily, there seemed to be an inherent defense for a way of life that would cast a spell on our holiday. But thankfully, as we drove further into the natural beauty of Norway, the spell lifted.
An overnight in the Lom region, where we had another lovely dinner at the Fossheim Hotel, would see us through the fog, metaphorically. From then on any fog we experienced would be as mystical and beautiful as the very fjords it hung over.
From crossing Sognefjell, Norway's highest mountain passage, beginning our fjord tour, to driving through Hallingdal Valley to ending our scenic drive in Oslo, Norway's capital, we witnessed exceptional beauty, from close-up waters surrounded by glistening mountainous rocks, some snow capped, to distant lakes, bordered by grassy, robust mountains.
Need I say more about the fjords, both Sognefjorded and Hardangerfjorden; they speak for themselves. But I will say that Norway's most burgeoning tourist town, Bergen, was well worth the visit, if only to see Bryggen, the unequivocally beautiful Norwegian street, which is on UNESCO's World Heritage List, too. And then we went off to Oslo, the country's capital. A smaller capital by comparison to many with a population of just over six hundred thousand of Norway's five million people, Oslo is replete with character, culture and clean-cut folks, most of them seemingly with a clear conscious. Here is where I inadvertently left my reasonably expensive coat in the waiting lobby of a restaurant for two hours or more. I found it just as I had left it.
Never mind the surly taxi driver, who like the one in Stockholm over charged us or the young man in the cinnamon bun shop on the Bryggen, who wasn't sure whether he should serve me or not. Norway is definitely off the beaten path and all the better for it.
---
HIGHLIGHTS:
THE FJORDS – Formed by glaciers during the ice age(s), Norway's fjords are deep, narrow and elongated seas or lake drains, with steep land on three sides. Stunning scenery!
BERGEN – Norway's most energetic city on the Fjord route. Bustling with lots to do and see.
 Bryggen – Pretty street with wooden houses – a UNESCO Heritage site
Funicular Ride – a train ride up to a high point over looking the city. Great views!
THE FOOD – Great restaurants, even in not so great spots, but fantastic at the likes of the Walaker Hotel in Solvorn!
INGENUITY – Engineering fetes all over the place in roads built in and over the mountains. The tunnels are built through the mountains and are complete with wi fi, roundabouts, etc.…the longest one we were in was 22 kilometers (13.5 miles).
---
LOW LIGHTS:
RAMBLING SHEEP – As cute as they are, sheep should not be allowed to hold traffic hostage, particularly at the mouth of a tunnel.
RESERVED LOCALS – Perhaps there is a shyness rather than reservation, as of the five million people, only a fraction of them foreigners.
ROAD TOLLS – Somebody has to pay for the new tunnels and the new roads. Never mind! They do stop charging when the work stops.
POOR ROADSIDE AMENITIES – Fuel up in the city or you'll be walking for miles and take a restroom break, too, or brave a roadside stop.